If you have walked by or have visited Eyedrum Gallery over the past year, you may have seen Orion Crook's This Takes Time, a living sculpture that exists in one of the storefronts across from the Federal Court House. Orion has been a part of the Atlanta art scene for many years. Known for his organic work with the Back Pockets, he has blossomed by dipping his toes into many creative outlets. He has made his presence known by working with platforms such as Flux, the Beltline, Eyecandle, MOCA GA, and the High Museum.
Orion grew up listening to the voice of nature, but it was not until the age of twenty, when his mother died, that he inherited her green thumb. Orchids were her familiar spirits and Orion recalls that at one point his mother expanded her orchid haven into an aviary in their backyard. A beautiful bond was created between his mother and him, and fate willed them to be together forever through the beautiful, breathing cycle of life with plants.
When I visited Orion to explore his vision with his new show Living Case, I wasn't surprised by the slew of aquariums/terrariums crowding the front porch. Each one was beaming with life that Orion had cultivated inside. In my mind, I could not help but honor the small worlds that Orion had become the god of. Inside these worlds were beautiful configurations of wet clay, twisted and formed into primitive shapes—his "living creatures." One aquarium had multiple small clay figures. These "living creatures" are collaborations from his Taking Time show, where multiple people were able to participate in making their own creature. Each aquarium was meticulously taped on top with plastic to keep the moisture for all the living things inside. When I asked him to remove the plastic from one of the aquariums for me to take photos, dozens of mosquitoes flew out and we ran for our fucking lives! We regrouped inside the house to cover ourselves with citronella and to find incense. I asked him what other living creatures he finds in his aquarium/terrariums, and he told me that alongside the mosquitoes, he'd find cockroaches, spiders, molds, and blooming fungus.
I dug deeper into finding out about the raw creatures—I asked him to explain his process of using wet clay for his "ceramics" as opposed to fired clay, and he told me that his "ceramics kept exploding in the kiln" and after painting them, they "would change (to a) color I didn't like; so I was afraid of firing them." Orion decided that he needed a "safer space" to house his creatures and cultivate them. When he kept the clay wet, they would eventually begin to spore, and what grew became like the paint to the "ceramic" piece. "The paintings are the plant itself. I always saw the clay creatures as living; the terrariums are cases to keep the creature. Just like the gallery informs the art work the terrariums inform the "ceramic" sculptures."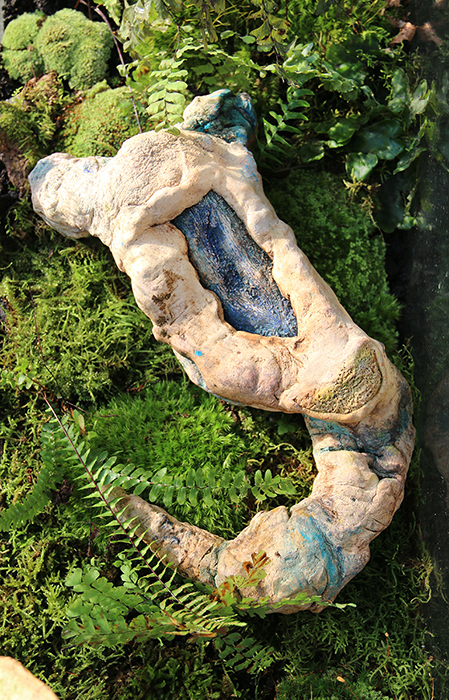 A big part of Living Case came about because he wanted to push past his own work. "I like the idea of bringing around artists that I like, respect, and their work makes sense to me." Living Case has over twenty artists of all ages whom Orion calls "the Narnian Army." "I think Narnia for me is a belief in otherworldly creatures that go beyond [sic] human. Like Matt Meher has masks that have to be worn, Shana Robbins does performances and then captures them through paintings, and Morgan Lugo makes mushrooms out of metal," he explained. There is also a seven-year-old in the show named Julius. Orion met Julius at the opening of It Takes Time, and was enthralled by his insight, telling me "he just told me all the things he saw in the terrarium and I thought he was brilliant, so I asked his dad if he could be a part of Living Case."
Over the past year Orion has been curating Living Case, with the intention of documenting the work of artists who work with living forms of art. An installation team will step in and turn the Eyedrum gallery into a case to fill with evidence around the curated work. The show opens on Saturday, August 15, 2015 from 7PM to 10PM, and the show will run until September 5, 2015. The opening reception will include performances, music, and art, both on the roof under the stars and in the main gallery space, as well as a tasting station to encounter living refreshments and food.
Orion's future goals are to work with artists' residencies and to move into his own space for his private practice. He is a licensed associate professional counselor with a practice in Oakhurst, and is a clinical supervisor at CHRIS Kids Clubhouse. He is also currently fundraising for a Therapeutic Artist Residency (TAR Project), with open applications starting in late September.
 
More information about the TAR Project can be found here: www.orionpsychotherapy.org/tar-project/
More Information about Orion Crook and Living Case can be found here: https://www.facebook.com/events/769116079853050
OrionCrook.com
OrionPsychotherapy.org
Written and photography by Haley Murphy aka Kiddo